Booking your ride with Multirent Italy
You can book by sending us a fax or going through our digital form. Whatever you choose you are to wait for a confirmation from us. It takes some hours before we reply: we want first to know if the vehicle is available and then if is in perfect riding conditions. We test the vehicle before it is assigned to you!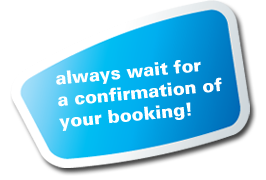 Booking Steps
1

FAX or Digital Form

Download our FAX PDF sheet or fill in the form field.
2

Send us your information

fill the forms with the required information or send us the downloaded PDF. You can FAX or send it by email.
3

Riding experience

you'll be asked some questions about your riding experience.
4

Wait for Confirmation

we are to be sure the vehicle you are requesting is available and in perfect riding conditions.
Booking by completing a PDF
you will need to download the sheet, print it and write on it. You can send it by email as attachment or fax it to our head office in Italy
Booking by filling in form fields
do all online, nothing to download, just send us your data electronically.
Do not book if you do not have a good riding experience!