The following ones are just general useful information on how to drive in Italy. When you are renting a vehicle by Multirent you will not have to worry as to the vehicle registration certificate, insurance or repair service because all is provided by Multirent already. These information are published here to offer you a glance on how in Italy driving is and what involves as rules.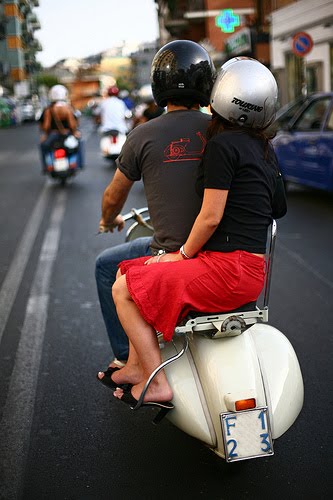 Below you will find cheap jerseys information on:
* Rules & Regulations
* What to Carry in the Car
* Speed Limits
* Fuel
* Smog & Driving Restrictions
* Parking in Italy
* Penalties, Points & Fines
* Driving & Drinking
* Servicing Repairs & Breakdowns
* Further Information
Rules & Regulations
* In Italy, drive on the right and overtake on the left
* The legal minimum age to drive a car or motorbike over 125cc is 18 years
* The legal minimum age to drive a motorbike of 50cc to 125 cc is 16 years
* The legal minimum age to drive a moped up to 50 cc is 14 years
* Seatbelts are obligatory in the front and must be worn if fitted in the back
* Children under 150cm must travel in a child seat adapted to their size and weight and wear additional safety belts (these must comply with national and European safety standards). Children may not travel in a non-adapted front seat until they are 150cm tall
* Mobile cellular phones may not be used when driving unless using a hands-free system
* On-the-spot fines will be handed out for drivers who use bus or cycle lanes
* Always give way to trains, trams, buses and emergency vehicles
* In towns and developed areas, priority is given to traffic joining from the right, unless otherwise stated
* Flashing amber traffic lights means proceed with caution but give way to traffic on the right
* On a gradient, the vehicle travelling uphill has priority
* Headlights should be switched on and dipped at all times of day or night when driving on motorways and dual carriageways outside towns
* If the car is not registered in Italy it must have the EU-style number plates with ray bans sale the origin of the car or a sticker denoting the car's home country next to the rear number plate
What to Carry in the Car
Items to be carried or kept in the car are:
* the vehicle registration papers
* a driving licence and photographic identity
* insurance certificate
* a red warning triangle (trangolo) to be used in the event of a break down or accident
* a reflective vest to be used in the event of a break-down or accident
* spare spectacles or contact lenses if the driver uses corrective eye-wear (an Italian driving licence states if the holder wears spectacles)
* special documentation for vehicles with 10 or more seats
Autostrada
Motorway (highway or freeway road network) signs are green with a white text. Roads are numbered from 1: the A1 is the Autostrada 1.
The motorway toll system (pedaggio) charges for each journey. Normally a ticket is dispensed at the start and paid for on leaving the motorway. There is a fixed charge per kilometre (the rate varies depending on the vehicle type).
The Viacard toll pass-card provides reduced toll rates and allows holders to pass quickly through designated priority lanes. The card is sold at banks, tobacconists, service stations cheap oakleys and tollbooths. Much like a telephone card, the user buys usage by paying a fixed amount which allows for a certain distance to be covered, monitored and deducted each time the card is swiped at a toll gate.
The Telepass is a subscriber toll pass service. A subscriber is given a sensor to attach to the vehicle. When the car passes through a tollgate, the amount due for the journey is logged and automatically debited from a specified account. Using a Telepass removes the need to stop at the toll; the car can slow down allowing for a reading to be taken and the barrier will open.
Motorways have emergency telephones located approximately every two kilometres. These connect directly to breakdown service supplied by the ACI (Automobile Club d'Italia).
Website Autostrada.it (in English) has information about the length, cost and facilities available for each journey, as well as about traffic conditions and estimated journey times.
* Use the route planner by entering place of departure and destination into the Organizza il tuo Viaggio box: Click here
Note: the search only works if you enter the place name in Italian; for example, enter Firenze not Florence
Main roads
The road signs are white with black text, except for strada statali and strada provinciali, which are blue with white text.
* Strade Statali: often dual carriageway, not tolled, usually lead to cities or town centres; they are numbered and named with the prefix SS
* Strada Provinciali: regional roads which are (sometimes) numbered with the prefix SP
* Strada Bianca: can be, literally, white roads that are unpaved/not tarred and connect rural areas; they are of varying quality
Tunnels
As much as 75 percent of Italy is mountainous; some autostradas have long tunnels and bridges.
Tunnels link Italy with France and Switzerland: Tunnel du Frejus and the Mont Blanc Tunnel link Italy and France in the Alps and the Tunnel Gran San Bernardino crosses the border to Switzerland.
Speed Limits
For cars, and motorbikes over 150cc:
* towns and residential areas: 50 Km/h
* trunk roads (outside towns): 90 Km/h
* main highways: 110 Km/h
* motorways and highways (autostrade): 130 Km/h
A driver who has held their licence for three years or less must not exceed 100 Km/h on motorways and 90 Km/h on urban roads (even if the limit is higher)
Fuel
Many petrol service stations in Italy are manned, meaning a pump operator will fill the car while the driver stays in their seat. The driver will have to instruct the operator on the type of fuel and how much is required:
* Unleaded fuel: benzina senza piombo (available in 95 and 98 octane)
Diesel: gasolio
Full/fill up: pieno
Leaded fuel has not been available in Italy since January 2002.
Most petrol stations will take payment by credit card but in rural areas, small garages will only accept cash. Most gas stations in smaller towns and villages close for lunch and all day Sundays. Motorway service centres remain open.
After hours, petrol can be bought and payment can be made in notes or with a European bankcard at specified automatic self-service petrol pumps (although these are rarer in the less-developed south of the country).
* The Autostrade website lists service stations and motorway bars and restaurants: Click here
Smog & Driving Restrictions
The pollution in a number of Italian cities, particularly in the North (Turin and Milan), gets so bad that the authorities elect to suspend traffic.
Usually, they alternate odd and even plates (dispari/pari) in the city, so that not everybody is affected: only drivers of cars with an "allowed" plate number for that day will be permitted to drive into the city. Anyone driving with the "wrong" plate number for that day is liable to a fine.
On some special occasions (such as an important soccer game) the restriction might be temporarily suspended. Moreover, if a car satisfies the "Euro 4" pollution standards, it will be allowed to enter the city despite these restrictions.
Trucks over 7.5 tonnes are not allowed on Italian roads (including motorways) on Sundays from 07:00-00:00. These restrictions do not apply to those granted an exception, such as trucks transporting perishable goods and fuel supplies.
Parking (Parcheggio) in Italy
Many Italian cities have localised restrictions on times when cars are allowed into the centres and where parking is allowed. These restrictions depend on the day of the week, time of day and whether the date is an 24, odd or even number. There are severe penalties for breaking the rules, even unintentionally. Parking restrictions are available form the local authorities.
Illegally parked cars may be towed away and the Italian police are able to charge EU drivers for fines incurred in Italy.
Parking Areas
Zona Blue: parking lines are painted in blue denoting either "pay and display" (pay for a ticket from the dispensing machine and display it clearly in the front windscreen) or display a blue parking disc set to the time at parking. Blue discs are available from banks, tourist offices, tobacconists and post offices. Always be aware of the maximum time allowed and confirm if payment is necessary as many blue spaces are free at lunchtime and in the evenings.
White Lines mark the parking bays indicate that it is free parking.
Yellow Areas: indicate disabled parking (with a disabled permit/Blue Badge) or delivery zones
Most larger towns and cities have underground and multi-storey car parks.
The website Parcheggi has news and information about parking in various Italian cities.
* For information on where to find a car park in a specific Italian town or province: Click here (in Italian)
Penalties, Points & Fines
* Traffic Police (Polizia Stradale) manage the Italian highways and roads
* Municipal Police (Polizia Comunale) enforce the traffic and parking regulations in Italian towns
When driving, carry photo ID, driving license, vehicle registration papers and insurance papers. There are penalties for drivers of vehicles without valid insurance. Documents verifying valid insurance coverage must be kept in the vehicle at all times.
Driving above the speed limit, and driving while using a mobile cellular phone are subject to fines.
It is compulsory to keep a reflective jacket (orange, red or yellow) as well as a warning triangle in the car. Anybody not complying with this rule is subject to a fine and having two points taken off the driving license.
People driving with a blood alcohol content at or above 0.5 g/l are subject to a fine, driving ban and/or imprisonment.
License Points System
In 2003, a new Highway Code (Codice della Strada) was launched in Italy with the objective of making the roads safer. The penalties for various infringements of the law were increased and a points-based penalty system introduced.
A total number of 20 points are assigned to a driver's licence, and with each offence the driver may lose points (1 point, 2 points, 3 points, 5 points or 10 points). Drivers who lose 20 points from their licence must take a new driving test. A driver may get points back provided that no further offences are committed over a fixed period of time.
Serious infringements of the law (such as exceeding the speed limit by more than 40 Km/h, driving in an emergency lane, drinking and driving) may lead to the revocation of the licence.
These rules apply to anybody holding a driving license, even if the points system is not applicable in the country of origin. If 20 points are lost within a year the person is suspended from driving in Italy for a period of 2 years; if the person loses the entire 20 points within a timeframe of 2 years, then they are forbidden to drive in Italy for a period of 1 year; and if the total of 20 points is lost within 2 and 3 years, then the person is forbidden to drive in Italy for a period of six months.
Paying the Cheap Oakleys fine
The driver of a car registered in Italy or in the EU must pay the fine custom jerseys within 60 days, in cash, at the nearest Police Station (Ufficio di Polizia).
The driver of a car from a non-EU member state should pay the fine on the spot to the police officer.
Driving & Drinking (DUI and DWI)
There are strict penalties for those failing an alcohol test.
The legal blood alcohol concentration (BAC) limit in Italy is: less than .05%, also defined as 0.5 grams per litre of blood (50 mg/100 ml of blood).
Italian police may carry out random alcohol tests on drivers at anytime. Testing is more common around Christmas, New Year and in the main holiday period of July and August.
Drivers involved in accidents or who are driving erratically are subject to automatic testing.
The police may confiscate the driving license of a person driving while intoxicated. Failure of a blood-alcohol test has serious implications:
* the vehicle will be impounded
* the driver will be fined
* the driving license will be confiscated
* the driver may be imprisoned
Vehicle insurance is voided if an accident is caused while the driver is under the influence of drugs or alcohol; the insurance company has no obligation to pay for medical expenses or those injured.
If a driver is found to have traces of marijuana, hashish, cocaine or other banned substance in their system they face a driving ban of up to 12 months.
Servicing Repairs & Breakdowns
The ACI can assist in the event of a breakdown.
The ACI is a subscriber service (much like the AA in the UK or AAA in the United States) providing general road assistance to members.
* ACI (Automobile Club d'Italia)
Tel: 803116 (or 116 from an SOS phone)
Tel: 06 491716 for a multi-lingual information service (English, French, German, Spanish, Portuguese, and Dutch are spoken)
Website (in Italian)
Note: In the event of an emergency, membership can be granted immediately.
It is compulsory to wear a reflective vest and place a reflective triangle behind the car to warn approaching traffic of a breakdown.
While general-service repair centres have teams of specialists able to fix all mechanical and other problems, there are also garages which focus on particular car problems.
The specialists are:
* Autoofficina: handles general problems except bodywork and wheels
* Carrozziere: bodywork specialist repairing scratches and dents
* Gommista: tire and wheel specialists and suppliers of snow tires and wheel balancing
* Elettrauto: all auto electrics including installation of car stereos and alarms
jenny dell talks about her new role at cbsMany MMA fighters, Jennings tells NPR, take some form
http://www.yknfljerseyswholesale5.com
of performance enhancer. Technically, she says, the performance enhancer list even includes coffee. "The extent to which a fighter takes advantage of the array of supplements available and if he or she is caught using steroids," she adds, "is what drives the constantly changing discourse regarding fighters and gamesmanship."The offense of the Denver Broncos, led by Peyton Manning, has been ridiculously insane this season. Peyton is racking up record after record, and the Broncos are putting the hurt on every opponent they face. Because of the amazing success of the offense, the defense has been overlooked, despite facing many issues Champ Bailey is out due to injury, Von Miller has been suspended for the first 6 games, and Elvis Dumervil took his talents to Baltimore. With the recent firing of Lane Kiffin at USC, however, the Denver Broncos's defense now has all the spotlight (for the moment).If an altercation breaks out on the court during an NBA game the rules covering the situation are clear. Any player that leaves the area of the bench to join in the fighting will be suspended for the next game and fined as much as $35,000. There are two types of flagrant fouls under NBA regulations. A flagrant foul 1 is committed when a player makes unnecessary contact with an opponent. A flagrant foul 2 is more serious and occurs when the contact is excessive and unsportsmanlike. This type of foul warrants immediate ejection, a possible suspension and a fine not more than $35,000.You could even argue the need to make the right decisions financially is more important when the average football career lasts for such a relatively short period.My hope is that
cheap ray bans
if a player does leave to go to an expansion team, their club and fans don't see it as disloyal but instead show some empathy
cheap China Jerseys
in presuming that they made the call for the right reasons. So you'll see here that spirits and
cheap jerseys wholesale
wine are encroaching on beer's traditional strongholds of sociability and belonging and cut above the best. So what does that imply for us? Well, it implies that we have to play more powerfully in these spaces. And this is what we do as marketers, and we'll talk about that today. They've also had some tailwinds with the combination of adding advertising to their portfolio, as well as penetrating sponsorships
http://fakeoksunglassescheap.com
with the NFL. And frankly, learning some lessons from beer, they've been able to make advances. And they've aimed at their strategies at differentiating their portfolio and premiumizing their products.
how to make a mint in 2007Rodgers leads unbeaten Pack in rout Aaron Rodgers (12) of the Green Bay Packers looks to pass the ball against the St. Louis Rams at Lambeau Field on Oct. 16, 2011, in Green Bay, Wis. Now it's one thing to enjoy kimchi, which is probably an acquired taste but, hey, lots of Koreans love it. But the shit that's left behind in the tank after they've fished the food out? It's like McDonald's trying to sell us cups of used french fry oil. And with a brand of breast enlarging soft drink.. In today's deep analysis, we look at a rare small cap name that I hold both within my Biotech Forum and Insiders Forum portfolio, as this small biopharma focusing on pain management has a very attractive risk/reward profile at its current trading levels as well as heavy insider buying in
http://www.fakeoakleysaler.com
2016. It also has myriad traits I look for before adding a small stake in a developmental concern, including a solid drug candidate(s), upcoming milestones, good balance, strong analyst support, and the stock appears significantly undervalued with a positive risk/reward profile. The company came public two and a half years ago and is currently priced just below $6 a share. S mutants pre formed a similar number of axillary
http://cheapjerseysupply.com
buds to WT at node 2. Outgrowth of these buds, stimulated by SD conditions or
http://www.cheapjerseysupplyforyou.com
the rms4 mutation, was similar to that of WT buds. However, even when bud outgrowth was stimulated, s mutants rarely initiated further axillary buds at node 2. History was made in October 2012 when active professional featherweight boxer Orlando Cruz of Puerto Rico came out. He said
http://www.cheapjerseys-nfl.com
in a USA Today article,
cheap jerseys
"I've been fighting for more than 24 years and as I continue my ascendant career, I want to be true to myself. I want to try to be the best role model I can be for kids who might look into boxing as a sport and a professional career.". Two of the three debates
cheap football jerseys
will be televised at
http://www.elitecheapnfljerseysauthentic.com
the same time as an NFL game. On Sept. 26, the night of the first debate, ESPN will carry the Monday night game featuring the Falcons vs. The Kiwis couldn't prepare at the test venue today, with their captain's run moved from Workington to protect the field after heavy rain in recent days. Instead New Zealand trained at the home of Aspartia Hornets, an amateur team playing in the seventh tier of English league. Two schools from the local community attended the session, and local fans and players stayed behind afterwards for a once in a lifetime chance to meet some NRL stars..