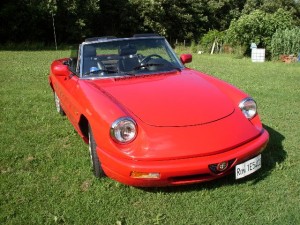 Engine 1600cc, 109 hp
Carburettors sound
5 gears
2 seats
Alfa Romeo Spider
[blockquote]
The legendary Alfa Romeo Spider Duetto, yes, that has enabled millions of people dream of the 60 to 80 years. The real & unique italian spider two seater, 1600 cc, 109 Hp, 5 gears, the myth yhat is repeated and now gives to all who want to have dreaming experience of a vacancy or weekend with the sky overhead.
Spider 1600 Duetto
Visit Italy by Spider, have you ever try to do a vacancy on a Alfa Romeo Spider? proove and you will be fagot of drive and of tour, with the sky over head you will more appreciate places of Bella Italia.
How to reserve a rental:
LOCATION:
We are based in Pontedera where the Vespa – Piaggio factory is based. Pontedera is half way between Pisa, Lucca and Florence. We are very well served by the local train that connects Pisa airport to Florence. Our shop is a 5 minutes walk from Pontedera train station and away from big city trafic.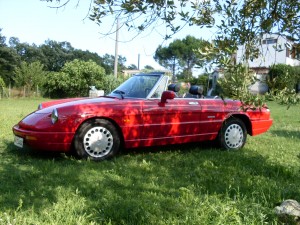 We have two other rental stations in Rome and Milan
HOW TO REACH US:
by taxi: 50 euro from Pisa airport
80 euro from Florence airport
by train: from Florence by train to Pontedera station and 5 minute walk (4.70€ pp)
from Pisa airport by train to Pontedera station and 5 min walk (2.40€ pp)
on foot: from Pontedera station 300 meters
HOTELS IN THE VICINITY:
www.hotelarmonia.it; www.albergolapacepontedera.it,
How to make a reservation:
Contact us via email at info@multirent0scana.it. or through purposal voice Contact, We shall reply within a few hours with a quotation and a selection of cars available. To make sure you get a complete answer you need to inform us of the following details:
a) start and end date of your rental including hour of pick up and drop off
b) location start and end
c) desired car
d) some information about your driving experience
e) desired route during your rental