R1200Gs liquid cooled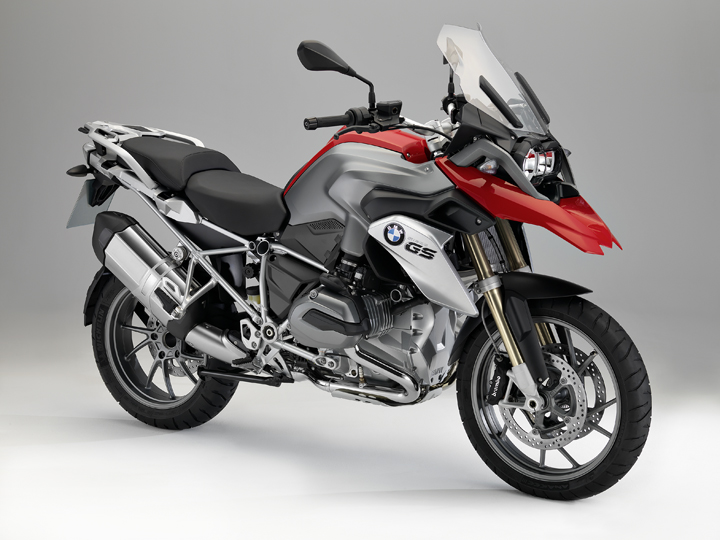 BMW R 1200 GS rental prices
| 1 | 2 | 3 | 4 | 5 | 6 | 7 | 8 | 9 | 10 | 11 | 12 | 13 | 14 | Weekend | Deposit |
| --- | --- | --- | --- | --- | --- | --- | --- | --- | --- | --- | --- | --- | --- | --- | --- |
| 185 | 355 | 420 | 560 | 690 | 820 | 940 | 1050 | 1165 | 1280 | 1385 | 1490 | 1595 | 1695 | 400 | 3000 |
     
 

The R1200GS features, first, a completely new air- and water-cooled boxer engine. That's right, like its predecessor, this new engine uses air for cooling but this time trades oil for the higher efficiency of a glycol/water mixture. Liquid cooling will be used just for the most thermally "stressed" areas with air used to cool the rest. As seen in our original artist's rendering in 2010, this engine uses vertical flow with heads rotated 90 degrees to allow air intakes above and exhaust below. The new engine produces 125 hp (92 kW) at 7700 rpm and 92 ft-lb. (125 Nm) of torque. That's 15 ponies and a few more torques than before. Overall, the R1200GS weighs in at a claimed curb weight of 524 lbs (238 kg). That's perhaps eight pounds more than before, but we'll need to wait until it hits our scales to know for sure. For the first time, the GS gets E-gas with throttle inputs being sent to the engine electronically. Optionally, these throttle commands can be further refined through five selectable driving modes (rain, road, dynamic, enduro and enduro pro) and with automatic stability control (ASC). An electric cruise control is also an option.

The GS gets a new semi-active suspension system. The BMW Motorrad Dynamic ESA (electronic suspension adjustment) not only allows user selectable driving parameters but monitors the movement of the front and rear wheels to automatically adjust the suspension to fit the driving conditions. The frame, Telelever front and EVO Paralever rear suspension has been redesigned for improved stability and precision. The swingarm is longer for better traction especially off-road and is mounted on the left side. BMW includes larger tires, 120/70 R19 front and 170/60 R17 rear. Radially mounted monoblock Brembo calipers grab larger discs for better braking and come standard with partially integrated ABS brakes. The world's first motorcycle LED headlights with integrated daytime running lights are available as an option with halogen lights standard. Like the K1600GT/GTL, the new R1200GS uses a CAN bus (controller area network) power system with LIN-bus technology (local interconnect network). The previous ZFE (central vehicle electronics) have been partitioned into two individual ECUs. Also like its big brother, the GS has the left handgrip multi-controller available to control operations including the optional BMW Motorrad Navigator IV GPS receiver. BMW says the new adjustable windscreen provides better wind and weather protection and can be moved using one hand. The driver seat is adjustable for both height and tilt and the passenger seat can be moved closer or further from the driver. A high and low seat, adjustable footrest and pedals are available accessories.

According to BMW: •1170cc displacement, maximum power 125 hp (92 kW) at 7700 rpm and maximum torque 92 ft-lb. (125 Nm) at 6500 rpm. •Vertical-flow cylinder heads for even more efficiency and performance. •Compact air-water-cooling for optimal heat management. •Integrated in the engine case six-speed transmission with wet clutch with anti-hopping function and reduced manual force. •New intake system with 52mm throttle body for optimum power and torque curves. •E-gas for improved rideability, refinement and presentation of special functions. •Innovative exhaust system with electronically controlled exhaust flap for optimum power and performance and pithy boxer sound. •User-selectable driving modes "Rain", "Road", "Dynamic", "Enduro" and "Enduro Pro" with three different drive-by-inputs, in connection with ASC (Automatic Stability Control), ABS and ASC settings for off-road use as well as different Dynamic ESA settings for each mode (optional equipment ex works). •New chassis with torsion stiff tubular steel bridge frame and bolted subframe. •Newly laid out lightweight shaft drive, placed on the left side. •Newly developed, optimized front Telelever and EVO Paralever rear for even more precise riding feel. •Optimized seat width and position, and adjustable handlebars for more comfort. •Specially designed for the R1200GS tailored wheel tire dimension of 120/70 R19 front and 170/60 R17 at the rear as a world first. •Revised BMW motorcycle brakes with radial-mount Monoblock calipers at the front and Brembo two-piston caliper with larger rear brake disc (Ø 276 mm, 265 mm previously). •BMW Motorrad Integral ABS as standard. •Dynamic semi-active suspension (ESA optional equipment ex works). Headlights with optimized light output and LED daytime running lights (optional equipment ex works). World's first motorcycle headlights with LED technology with integrated daytime running lights (optional equipment ex works). •Electronic cruise control (optional equipment ex works). •Preparation for navigation device with multi-controller to operate the BMW Motorrad Navigator IV (optional equipment ex works). •Windshield with hand operated adjustment for best wind and weather protection. •Multi-adjustable seat for perfect ergonomics. •New instrument cluster with standard on-board computer. PRO-board computer as an option.